Landscaping Installation at Modern Sausalito Home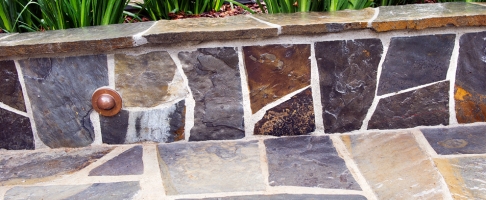 We began by removing the existing landscaping and salvaging a few elements that the homeowner wanted to keep for the new layout. We worked closely with the general contractor at the home to design the concrete layout for the driveway, paths and patios. Once that was complete, we mortared rare Sadge Hill flagstone into all the concreted areas and walls. Finally, we built two dry stack retaining walls using the same flagstone.
Next we began planting the landscape. This was a particularly complicated project due to the homeowner's request to have very large tree ferns brought in. They aren't native to the Bay Area, and though hard to track down, we were able to locate them and negotiate a sale between a few other clients in Marin County. We then transplanted eight of the 15 foot tall tree ferns to the new landscape, where they became the focal point of the landscape design process.
Once the planting was in place, we designed an appropriate drip irrigation system and installed it to create a water-saving watering scheme for the yard. Finally, we installed outdoor lighting on the property to illuminate the paths for safety and dramatic effect. We also installed up-pointing lights to feature the large tree ferns, giving the yard exceptional beauty and depth at night.
We visit the home every twice a month on a maintenance schedule to keep the property as beautiful as the day we finished.