Creating Outdoor Living Space by Excavating a Hillside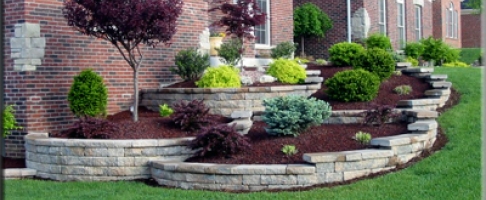 We were very excited to take on the challenges of this Mill Valley project. The property was very large, but much of it was rather inaccessible due to the steep hillside. We run into this often due to the land profile in and around Marin County.
The homeowners wanted to increase the size of their yard and expand their usable outdoor living space. We excavated the hillside and installed beautiful interlocking blocks, creating terraced retaining walls. This provides an attractive, extremely stable wall to stabilize the excavated hillside. We then poured concrete to create dual flat patios with flagstone mortared to the concrete.
French drains were installed behind the new walls to ensure proper drainage. A new drip irrigation system provides the right amount of water for the planting we designed and installed. The plants were chosen specifically to match the existing native Northern California garden. Finally, we designed a complimentary lighting system and installed it around the patios and amongst the trees to allow the new living space to be enjoyed in both daytime and night.
Sampson's Landscaping excavated part of our unstable hillside and replaced it with a new living space. Our outdoor living space includes a flagstone patio surrounded by lush landscaping, 2 interlocking block retaining walls, and outdoor lighting to maximize the enjoyment at night as well as during the day.
Our new landscaped yard has increased our living space and we look forward to many days and nights spent in the new yard.